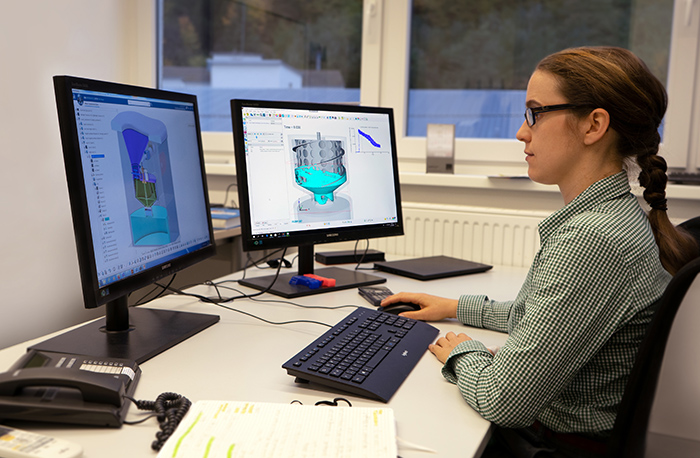 November 3, 2020
Developing a toilet that can work both in a weightless environment and on the moon? Sounds like quite a tricky task! That is why NASA offered a $35,000 prize for the three best designs – and received proposals from 20,000 participants from around the world.
At the announcement of the winners on Oct. 22, 2020, NASA awarded third prize to Franziska Wülker, development engineer at the designer bathroom manufacturer Duravit. The first two ranks were awarded to expert teams from the United States. Franziska Wülker is thus the only non-American participant, individual and female engineer who made it to the top three. Also present at the ceremony was Jonny Kim; the Silver Star recipient and NASA astronaut is involved in the Artemis program, which is expected to send the next astronaut and the first female astronaut to the moon in 2024.
"We are extremely proud that Franziska Wülker was able to conceive and complete such an ingenious project alongside her regular work," said Thomas Stammel, chief technical officer at Duravit AG. "Third place is a considerable achievement that is testament to our expertise in the field of toilet technology."
The Duravit space toilet is comfortable to use for both male and female astronauts – thanks to its optimized sitting geometry. Suction is used to reliably remove all excretions from the user's body. To compensate for the absence of gravity, excretions are fed into a centrifuge, where they are accelerated and deposited in a tank via a screw conveyor. The geometry of the design and filters guarantees that neither unpleasant odors nor bacteria can escape into the cabin of the spaceship. The toilet system is self-contained, meaning that the safety of the crew is guaranteed even in the event of a power outage, preventing exposure to a vacuum or similar. Despite its ingenious technology, Duravit's design comes in well below NASA's specifications in terms of weight and energy consumption.
Duravit deploys state-of-the-art technology in its research and development work, which is enhanced by the experience of the skilled workforce in the development team. Engineers, product developers, and designers collaborate closely on new projects. For example, they take advantage of the very latest software that is deployed for research in the automotive industry, the aviation and aerospace sector, or at universities. This software enables for instance the flow of water to be realistically simulated and visualized, meaning that new products can be developed and optimized even more quickly and efficiently. The company has previously used the software for instance in the development of the Duravit Rimless technology, which offers enhanced hygiene and cleaning comfort thanks to the open design of the flushing rim.
"When developing toilets, we pay close attention to reliable flushing performance and good hygiene," said Wülker. "As well as functionality and design, we are also always mindful of current issues such as water consumption. On our toilets designed for use on Earth, we are naturally assisted by gravity, which causes the excrement to fall automatically into the toilet bowl. One of the biggest challenges in the construction of the Lunar Loo was rethinking everything to ensure that the functionality also worked in a weightless environment."