When most people think of pulled meat they often think of pork but this pulled chuck roast which I mixed with grilled onions is versatile enough to go on a sandwich, fajitas, tacos, pizza– let the sky be the limit and the flavor will back it up all the way.
I got this 3-lb chuck roast from Porter Road and I smoked it on my new 20×36 offset smoker from Lone Star Grillz.
By the way, if you'd rather see this on video, HERES THE LINK!
Step 1: Dry brine and Season
Use ½ teaspoon of coarse kosher salt per pound of meat when dry brining meat such as this chuck roast. This chuck was 3 lbs so I can use up to 1.5 teaspoons of salt.
I made the decision to use only 1 teaspoon of coarse kosher salt and some of my Texas style rub which has a small amount of salt as well.
First the salt..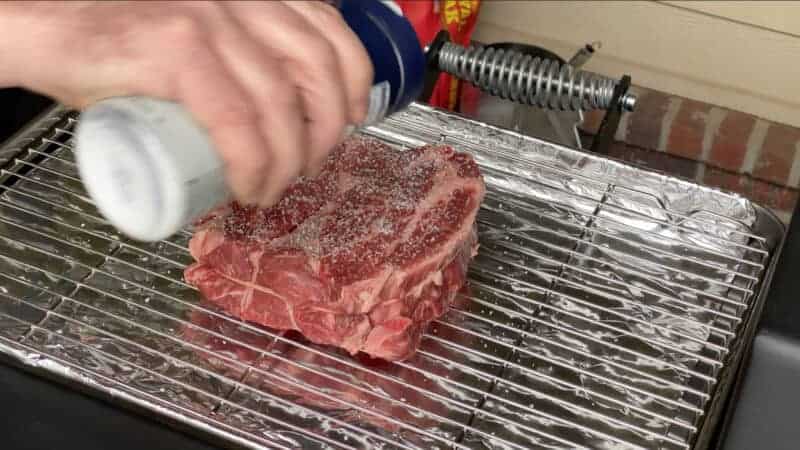 Then the Texas style rub (Purchase formula here | Purchase bottled rub)..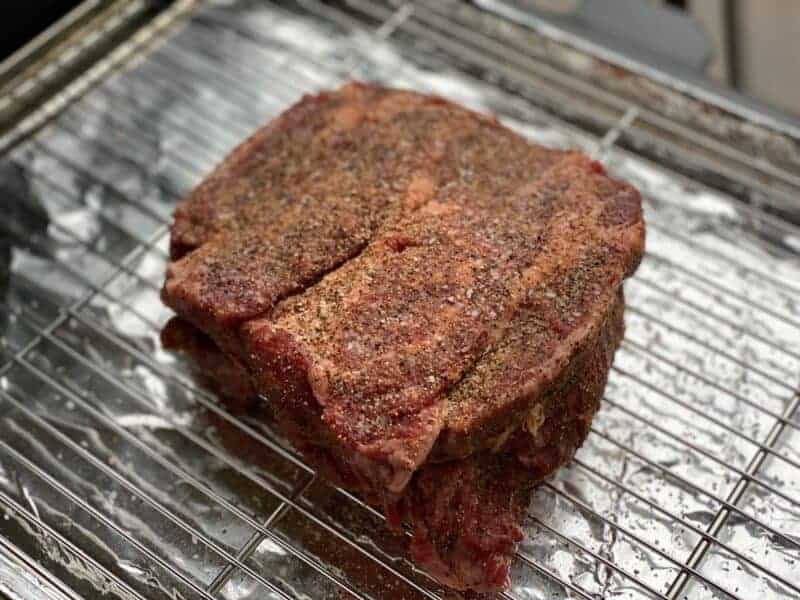 Now place that pan with the chuck roast in the fridge overnight or for at least 6 hours to let the salt and seasoning to do its magic!
Step 2: Set Up Smoker
Just before the brine time is over, set up your smoker for cooking indirect at about 225-240°F and if your smoker uses a water pan, fill it up.
You will notice that I used my new 20×36 by Lone Star Grillz.. not only was it super easy to maintain my temperature but the quality and craftsmanship on this thing is phenomenal!
If you're in the market for a patio sized offset smoker.. this one is perfectly sized and of course they have other sizes as well. You can check them out at lonestargrillz.com
You'll hear me talking more about this smoker in future newsletters and videos.
Step 3: Smoke Time
Once the smoker is ready and the dry brining is done, place the meat in the smoker.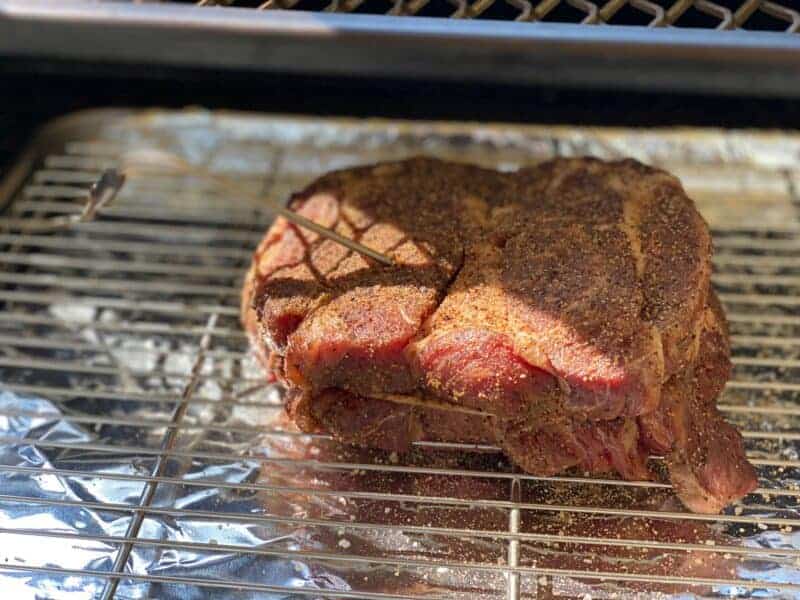 You will notice that I like to use a pan with a rack to cut down on smoker cleaning while still allowing the smoke to get to every side of the meat. The one I use was purchased on Amazon HERE but anything similar will work just fine. Mine is a full size stainless steel pan with fitted stainless steel rack and it came with (2) sets of these.
Maintain 225 to 240°F for the entire cook time. I used a mix of cherry and hickory but use what you have available.
Step 4: In the Pan
Let the chuck roast smoke along until it reaches about 145-150°F and then move it to a foil pan filled with a can of beef broth and a half can of cream of mushroom soup.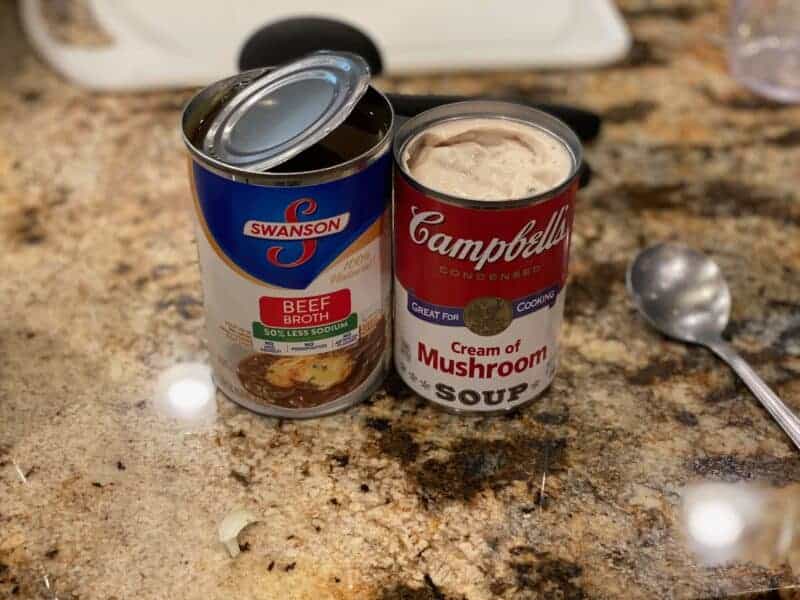 I mixed the ingredients into a small bowl before adding it to the pan..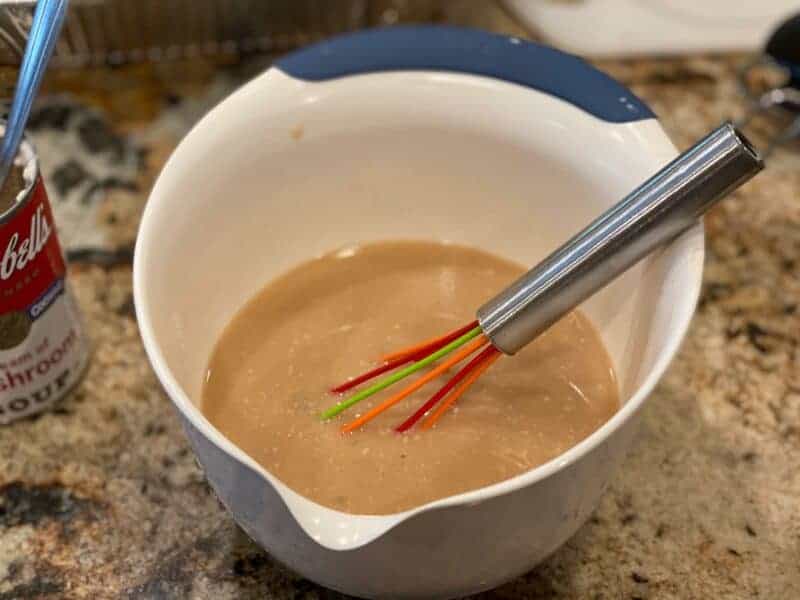 Place the meat down into the foil pan with the liquid and let it continue cooking.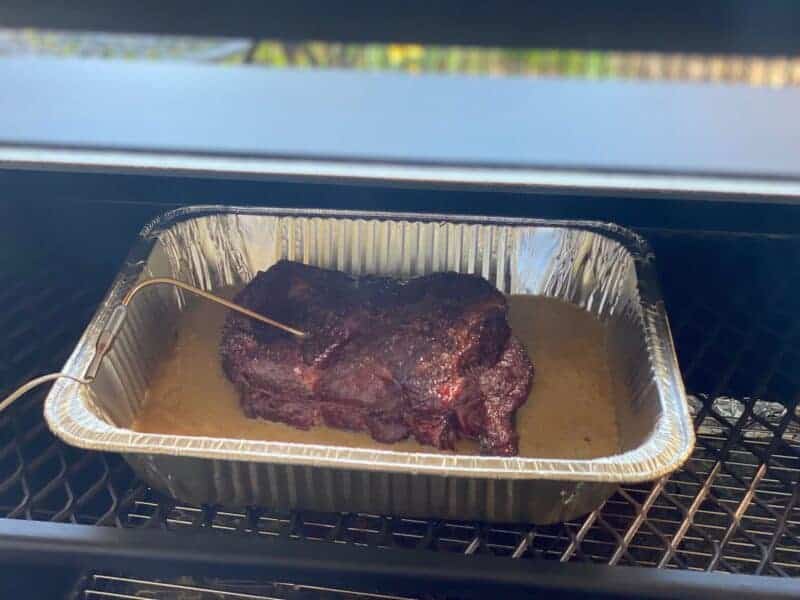 Step 5: Wrap it Up
When the meat reaches 175°F, you'll want to wrap it up or just place a piece of foil tightly over the foil pan. This will allow the liquid to create steam and braise the meat to make it more tender.
Let it stay wrapped and cooking until it is fall apart tender. Mine ended up going all the way to 208°F and I figure that you'll probably have a similar experience. Fortunately, these have plenty of fat to keep them moist even when you cook them to these extremes to tenderize them.
Step 6: Rest and Pull/Shred the Meat
When the meat is tender, best determined by pushing a probe or other sharp object into the meat and feeling for no resistance, remove the pan from the smoker and let it sit, still covered, and rest for up to an hour or two but at least 10-15 minutes.
If you have some help, let them pull the meat into pieces while you grill up the onions and toast the bread. Otherwise, you can go ahead and pull the chuck roast while the onions and bread are on the griddle.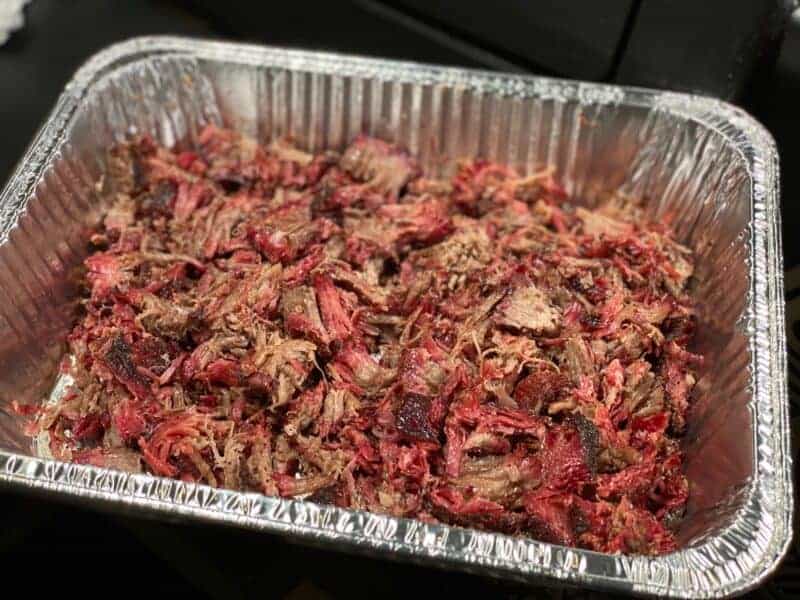 Step 7: Grill Onions and Toast Bread
If you have a griddle such as Camp Chef or Blackstone, that will work great. This new smoker came with a griddle over the top of the firebox and boy it worked great! It was right around 365°F when I started and that worked perfectly for what I was doing.
If you want to grill some onions, use half slices or even the whole rings if you want to. Pour the onions on the griddle with about a tablespoon of olive oil and about a tablespoon of my Texas style rub (Purchase formula here | Purchase bottled rub) on top. Mix it all in and just stir it around here and there until they get really soft and wimpy. Delicious!!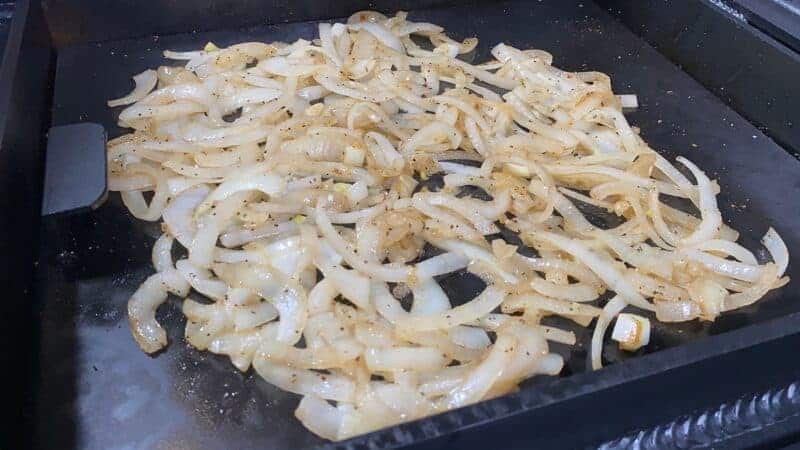 To grill the bread, just butter both sides and grill both sides until it gets a nice crisp surface.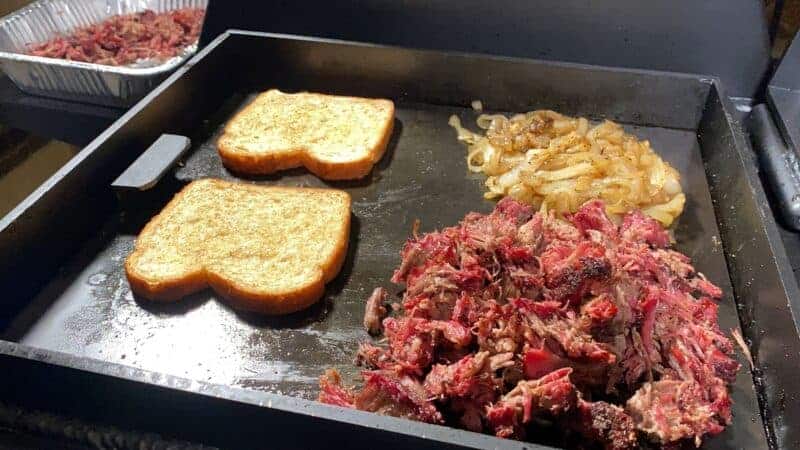 I went ahead and mixed the meat with some of the onions on the griddle to warm it all up for the sandwich.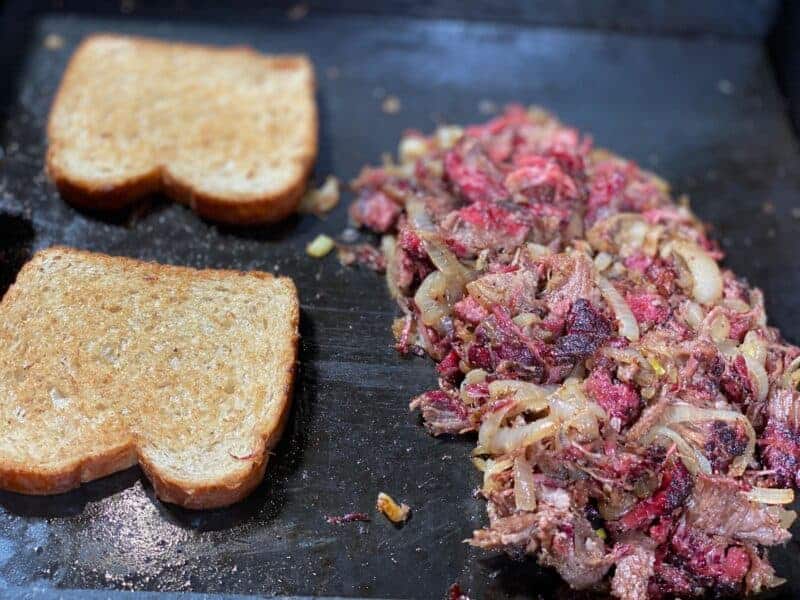 Step 8: Put Together and Serve
Pile the meat and grills onions on the toast and make yourself a sandwich that will make you smile!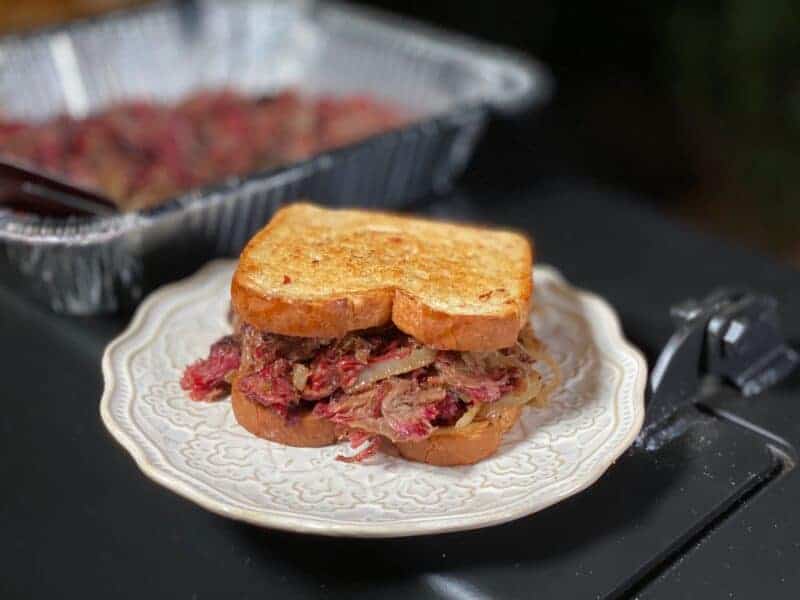 Notes and Comments
If you don't want to mix the meat and onions together, you can place the meat on the bread with the onions on top of that.
You can also add cheese to the sandwich and/or some barbecue sauce (Purchase formula here | Purchase bottled sauce) drizzled on top if you want to.
If you make this at home, I'd love to see a picture of it!