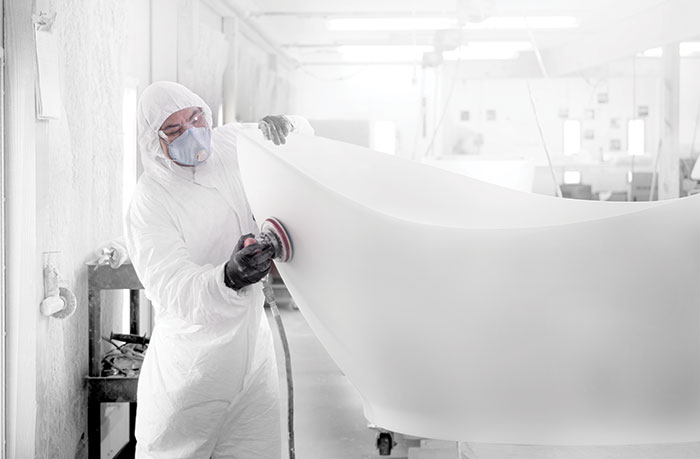 November 23, 2020
Making our most valued kitchen and bath products – from a favorite soaking tub to a unique light fixture and to the kitchen sink itself – takes much more than complex machinery and logistics. For many of these products, hands-on artistry and craftsmanship is what gives the product long-lasting durability and beauty. KBB spoke with three manufacturers well acquainted with these products to find out more.
Explain how the manufacturing process for one of your products.
"We build almost all of our fixtures one at a time when we get the order. A typical product will start in the Forge, where we bend and form the steel with the use of tooling that we've developed to get the customer a consistent form. This may require hammering, stretching and bending of the steel at a high temperature through both hand and mechanical means.  After the pieces are forged, it typically goes to our weld department, where you really start to see the fixture come together. From there, it needs to be cleaned, which is a multiple-step process of tumbling, sandblasting, washing and drying. Once it is finished, the fixture is wired and assembled with an LED or other needed components, tested and then sent to be packed and shipped."
– David Kitts, design director, Hubbardton Forge
"Our tubs are all built by hand and made out of Sculpture Stone, which is a solid surface product. We build the mold in house, and the mold has a void in it that we fill in, polish and fire. When it's cool enough, we fire it a second time, we take the tub out of the oven and hand-finish it again. We have finishers who spend four to 12 hours – depending on if it's matte or a glossy finish – and they go through five additional steps until we create a deep, hand-polished finish."
– Russell Adams, MTI Baths president and chief design officer
"The most widely known technique used for making artistic glass is glassblowing. Our Murano sinks are made using a glass casting/spinning technique that allows for the sink to take shape while fusing the colors and designs into a one-of-a-kind piece of art. The colors and desired designs are known, but the end result will always vary. As you can imagine, that is a challenging process requiring the extreme skill and experience of master artisans."
– Naomi Neilson, founder and CEO of Native Trails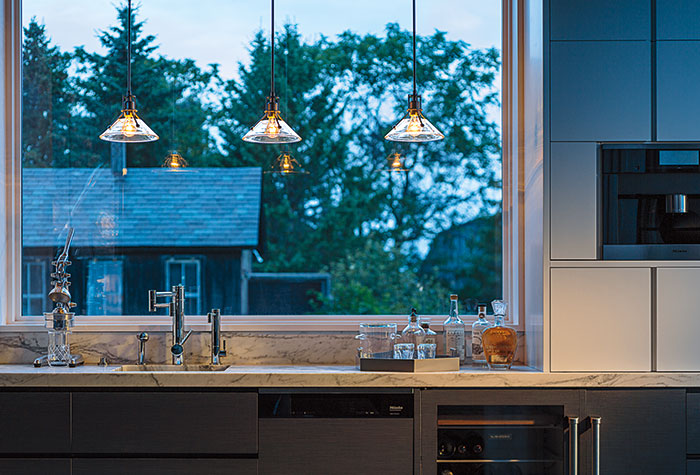 Hubbardton Forge's designs are conceptualized in different ways, but because the company's designers have the ability to work directly with the artisans, they are able to experiment and develop ideas quickly.
How do you choose the materials and techniques that go into making your products?
"Steel is our first choice for interior product and aluminum for exterior product. Although this is where our experience and expertise are, it doesn't mean we do not experiment and work with brass, stainless steel and other materials. We will often complement the steel with other materials such as glass and shade fabrics that we source locally and from all over the world."
– Kitts, Hubbardton Forge
"We work with our vendors to aim for the highest in product quality? Our minerals have to be finely ground into a powder so it can mix and become one with the resin. The resin has to contain enough high-performance components, so it can be a true solid surface product."
– Adams, MTI
"Murano became a world-renowned center for artistic glassmaking as early as the 13th century, and a tremendous amount of innovation has come from Murano over the centuries. The island's carefully guarded knowledge and the prestige of its glassmaking culture enhanced the creativity and focus on inventing new techniques and processes, turning Murano into a globally revered center of glassmaking. Muranese artisans have partnered with famous international artists and designers over the past century, which has further elevated their prestige."
– Neilson, Native Trails
What are some of the most challenging parts of manufacturing these products?
"Every department has their challenges, but most would probably point their finger at me and the design team! We are always pushing their abilities, whether it is for tighter tolerances, smaller welds or more complicated wiring and bends. It's part of our ever-growing desire to challenge, improve and grow as a company."
– Kitts, Hubbardton Forge
"The hand finishing part is the most challenging aspect. Once we take that tub out of the oven, we have to find someone who has a great eye for detail and the ability to make the product we desire."
– Adams, MTI
"It is always a challenge to extract precision and 'perfection' from a handmade, artisanal process. In fact, the variances and imperfections are what create value – the concept of 'perfectly imperfect.' At the same time, a sink must conform to its specifications within a small margin of variance to fulfill its function. To achieve this, the glass smith must use extreme focus while hand forming pieces within a small window of time before the glass cools. Also challenging is simply the blending of colors. A touch more or less of color – or adding it slightly differently – can dramatically alter the result."
– Neilson, Native Trails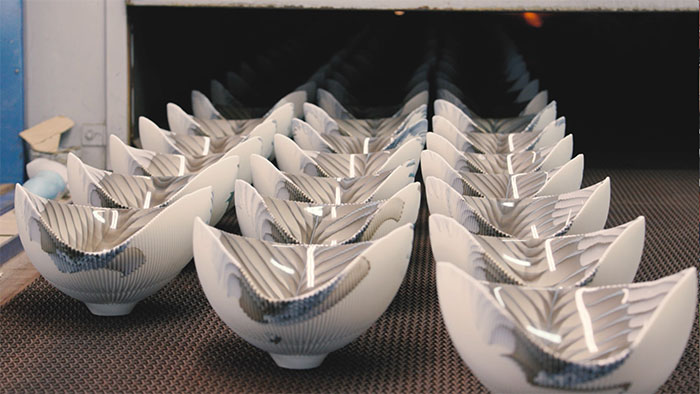 The colors and patterns of Native Trail's Murano Collection are created in the molding and spinning process, and each glass vessel sink is hand formed.
Do you require your artisans to have any particular qualities?
"We look for team members who are engaged and care about the quality of not only their work but the end result. We want team members who can work with others and be adaptable to change. We have a broad range of people who have been at the Forge for over 30 years and those who are new – either way training is critical to everything we do. We try to cross train as much as possible and promote from within."
– Kitts, Hubbardton Forge
"We look for people who have been in the autobody industry or people with experience in a countertop or cabinetry factory. Those people can work this material pretty well. We also have five different buildings where we manufacture, so we bring people over to different areas and train them in different skills."
– Adams, MTI
"Years of searching for the perfect glassmaking partner – research, feet on the ground and a certain degree of luck – led us to the highly talented artisans we work with today. Also, the Native Trails brand is known widely as a good partner for artisans to help them grow in the markets we serve."
– Neilson, Native Trails