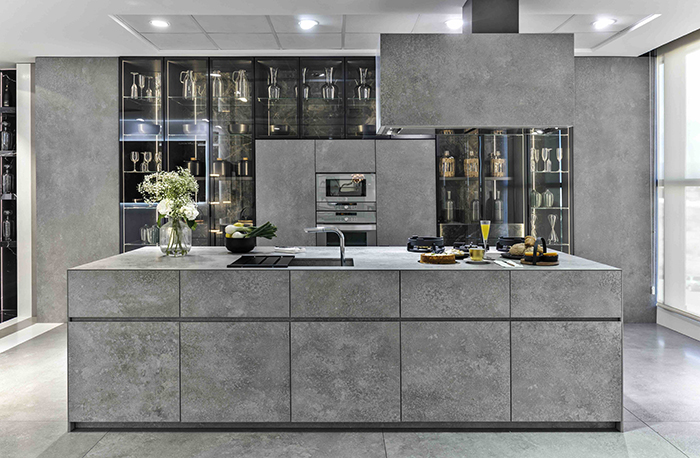 November 24, 2020
Neolith announces the launch of its latest showroom at its headquarters in Castellón, Spain. Offering a 360-degree panorama of the brand's extensive collection of patterns, finishes, formats and thicknesses, Neolith HQ Showroom exhibits the surface's numerous attributes and versatility, in a way not seen before.
"Establishing a physical presence globally has been crucial to engaging with our audience, boosting awareness and sales," said CSMO Mar Esteve Cortes. "Nowhere is this more important than at our head office, where we receive visitors on a daily basis, from distributors and fabricators to architects, specifiers, clients and media. Alongside the factory, Neolith HQ showroom provides essential context, offering a wide-ranging exploration of what can be accomplished when using our surfaces."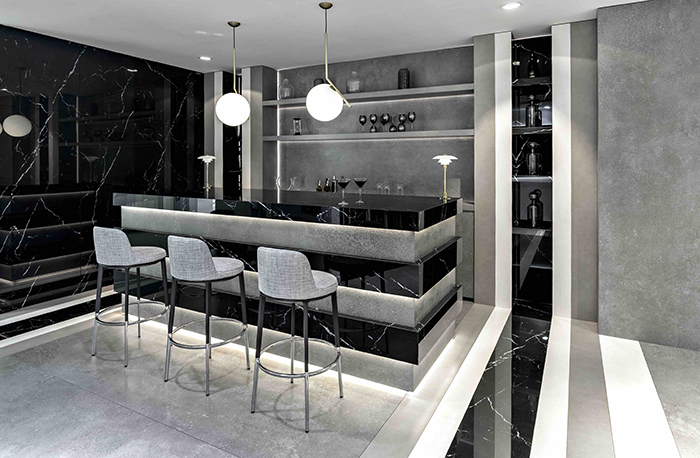 The creative vision of Neolith's in-house architect, Giuliana Barandiarán, the showroom combines powerful design statements and reflects the brand's coming of age over the last decade, achieving a cool and contemporary look and feel. Also possessing a lively and convivial atmosphere, Neolith HQ Showroom is intentionally informal and homely rather than corporate and clinical; at its heart conveying a welcoming sense of escapism from the humdrum and hubbub of everyday life.
Luxurious furniture, fixtures and fittings from major brands B&B Italia, Doca, Flos, Jacuzzi, Louis Poulsen and PITT Cooking have been chosen to further enhance the space. These provide essential context to the many Neolith applications on display.
"Giuliana's surpassed herself on this project, the artistic vision is original and creative, from the floors, walls and ceiling to the finer details, everything looks amazing," said Cortes. "It was also great to get some amazing interior brands involved in the project, their products lift the space creating a unique setting in which to showcase Neolith."
Essentially, Neolith HQ Showroom encapsulates the brand's evolution, setting a new architectural benchmark and further unlocking the surface's potential. Each corner tells a different story, giving insight into how Neolith can be fabricated to cover an expansive area or worked to the most intricate detail.
A comprehensive and holistic display, Neolith HQ Showroom assembles a vast array of the brand's most popular and recently launched patterns and colors in a multitude of applications. Those entering the space are immediately drawn to a visually striking two-tone bar in Nero Marquina Polished and New York-New York, perfectly capturing the material's ability to add refinement to a setting.
Next, the demonstration kitchen catches the eye. Specified wholly in New York-New York and flanked with shelving in Amazonico, one of the newest colors, this understated, minimalist and sophisticated area also contains a fully integrated island featuring an exclusive PITT Cooking range. The bathroom is clad in one of Neolith's most exotic patterns, Mar Del Plata, and is also fitted with a luxurious hydro-massage bathtub, provided by Jacuzzi.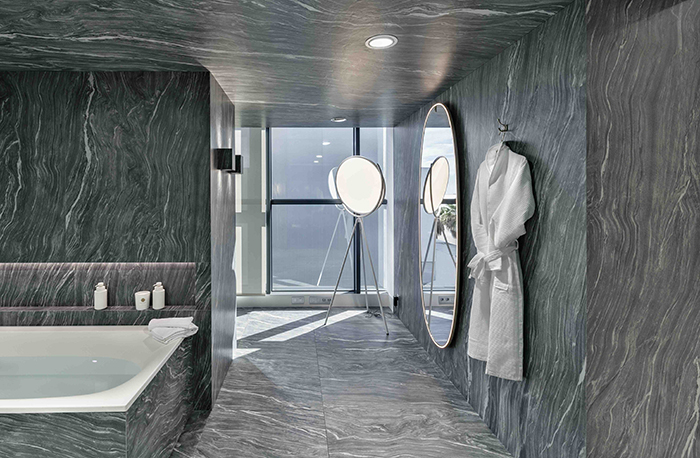 Floors throughout the Neolith HQ Showroom are laid in a variety of patterns, particularly the award-winning La Bohème, which mimics the look and feel of natural wood. Cut to resemble floorboards and framed with Calacatta Gold and Nero tiles, visitors would be forgiven for thinking they were walking on actual timber.
Elements of contrast abound within the space, one highlight being a BBQ and spacious work bar, clad in patinated Sofia Cuprum for a punchy, industrial visual pop against brilliant Arctic White Nanotech.
To enhance the space, Neolith has also incorporated high-end furniture, fixtures and fittings from a handful of sophisticated brands, further helping to simulate real-life settings. Carefully positioned lighting from renowned designer Flos creates a warm and inviting atmosphere, while luxurious furniture from B&B Italia, Doca and Louis Poulsen further amplify the sense of refinement and urbanity.
The finer details are as important to Neolith as the bigger picture. The space contains plenty of interesting flourishes, showing how the material can be worked to the most specific requirements. Two highlights include an intricate world map, digitally carved into a slab of Basalt Black, and an interpretation of Magritte's famous painting "Son of Man," made using multiple Neolith colors and finishes. Other elements, such as a polygonal shelf, a sculptural wall in Strata Argentum and a book-matched slab of Calacatta Luxe, communicate Neolith's rich aesthetic qualities.