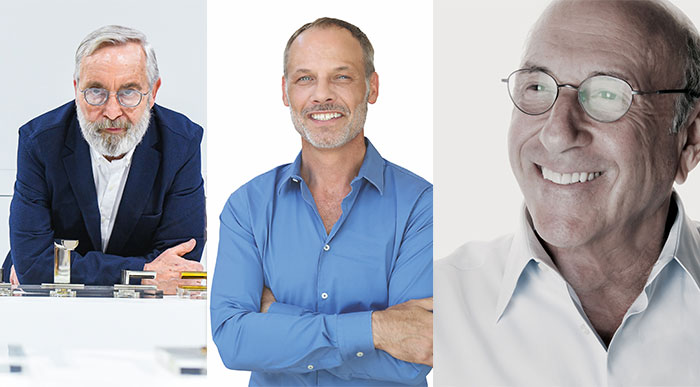 November 27, 2020
Especially now when consumers are putting a high value on both relaxation and cleanliness, the power of water in our homes cannot be understated. Homeowners are craving bath fixtures that are not only highly functional and durable but also showcase a beauty that soothes and enhances after a long day. KBB spoke with three designers who create these products to find out more about their inspirations, challenges and what's coming next.
The Job
"Product design means I'm always thinking. Shapes and designs in the environment, natural elements and visual stimulus such as the sunset on water stick in my mind. I listen to design trends and listen to what people 'wish they had,' and I take their needs and try to put those into a comfortable bath. It's easy to sit and pencil draw something unique and even fanciful. The hard work comes with exactly how the product is to be used and then actually producing that product with good-quality materials and craftsmanship."
– Ed Richmond, President, Americh Corp.
"Designers create a lot of custom pieces and don't always realize that we are product designers from the beginning of our careers. The job entails creating concepts as collections; we create 3D renderings to bring them to life and select finish inspiration. The next steps are shop drawings to approve sizing with finish samples and reviewing prototypes. Additionally, with the job, manufacturers are relying on your eye to see what is missing from the market. And finally, your job is to be part of the marketing, appearances and promotion to maximize the exposure of your product."
– Christopher Grubb, president and founder of Arch-Interiors Design Group, product designer for California Faucets' StyleDrain
"I see myself as a project director as well as a designer. I try to control the things you see as well as what you don't. I devote a large portion of my time to the mechanical function of our products."
– Josef Moskovic, chief designer of Franz Viegener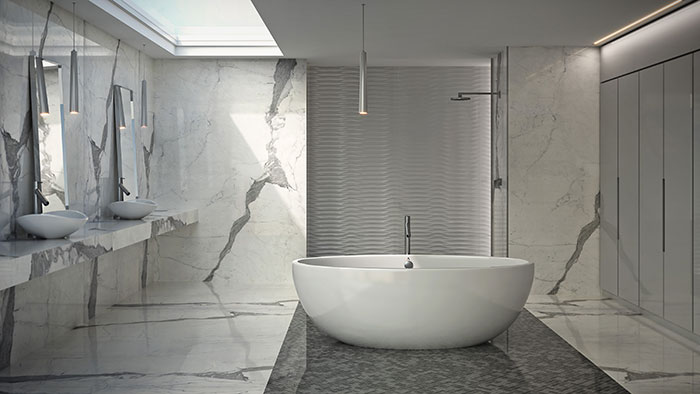 "The Contura is one of my favorites because of its groundbreaking, seamless, acrylic design.
At this time, my favorite is my newest design the Somerset. It was inspired by a tulip and the way the flower creates an embracing hold." –
Ed Richmond, President, Americh Corp.
Individual Aesthetic
"My style is clean, crisp, with minimalistic, timeless lines, with comfort and functionality in mind. I try to avoid accents that later become dated."
– Richmond, Americh Corp.
"I tell potential clients that if they want to see my style come to my house. The fun I have in interior designing is figuring out who the client is, what are their likes and what's their lifestyle – resulting in no two projects being the same.  We design spaces that are traditional, transitional and contemporary, which helps me design product. I think of a client and design what they would like."
– Grubb, Arch-Interiors Design Group and California Faucets
"My style leans toward modernism."
– Moskovic, Franz Viegener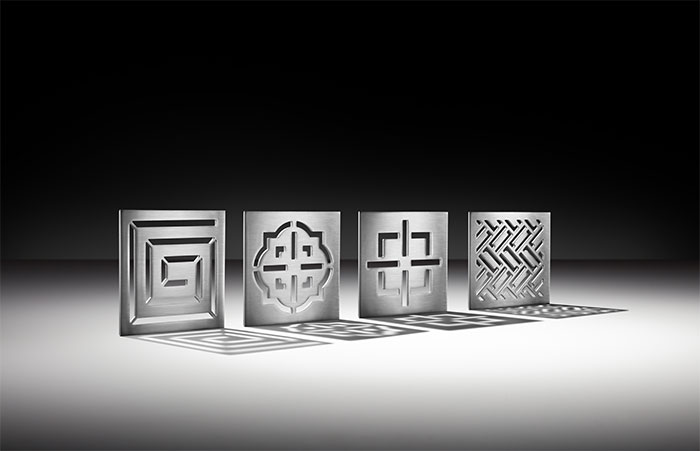 "I'm beyond thrilled with my new collection for California Faucets of their patented award-winning StyleDrain Collection. The new styles manifest the variety of styles I use, and since they're available in over 29 unique handcrafted finishes, each design can result a multitude of looks." – Grubb, Arch-Interiors Design Group and California Faucets
Challenges Faced
"It can be difficult creating designs that are universally liked and not sacrificing good looks to practicality or vice versa. I also have to protect new designs from being immediately knocked off."
– Richmond, Americh Corp.
"If you are going to pursue product design, know it is like starting another company. There can be the time, staffing and financial challenges that come about. We are blessed that the majority of our work is word of mouth, yet another challenge is managing the interior design business and marketing. There are only so many hours in the day."
– Grubb, Arch-Interiors Design Group and California Faucets
"My biggest obstacle is being 5,600 miles away from the Franz Viegener factory in Buenos Aires. I used to travel down there six to eight times a year, but now with COVID it's a whole new ballgame. Luckily, I have a 3D printer available to me, which allows me to see the designs more clearly, but to be honest, you really need to see the product in metal to get the full impact."
– Moskovic, Franz Viegener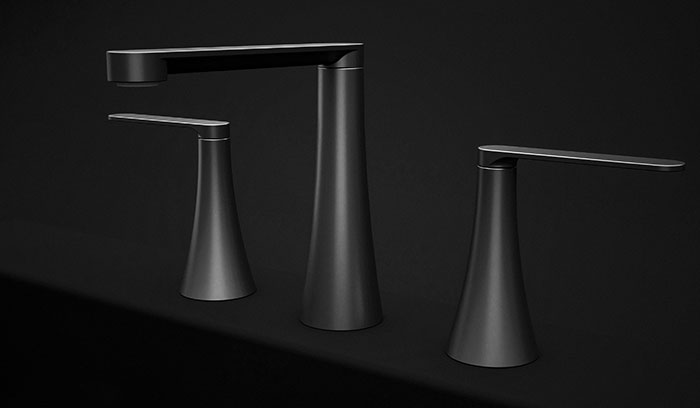 The new Konic Faucet from Franz Viegener is an artful blend of linear and curved features with flared conical bases that taper into attenuated peaks supporting squared fixtures. The slightly rounded tip of the faucet echoes the geometric shape of its base, which is matched in the design of the smooth levers and optional cross handles.
Coming Next for Bath Fixtures
"Smaller-size bathtubs had been trending up until COVID.  Now, with the exodus from cities to the burbs, larger bathrooms may be making a comeback and changing the trajectory of product development. No matter what, the square footage that a tub occupies needs to be useful and used."
– Richmond, Americh Corp.
"One thing I've been wanting to use is a more 3D-type tile, hence we may be seeing it in a new line in 2021 I've been working on."
– Grubb, Arch-Interiors Design Group and California Faucets
"I'm seeing a lot more bedazzle being shown by many of the European designers. This includes two-tone finishes and intricate detailing on handles. The problem with all that is it gets dated eventually – remember harvest gold and avocado fixtures?"
– Moskovic, Franz Viegener
Favorite Part of the Job
"I love the creativity needed in solving design needs and product 'problems.' Ultimately, my favorite part is having an influence in the plumbing industry and helping push decorative plumbing further out into the consumer-verse."
– Richmond, Americh Corp.
"Both for interiors and product, my favorite part is the final result or prototype. I love the conceptual process, but to see what your mind created take shape in 'real life' is exciting!"
– Grubb, Arch-Interiors Design Group and California Faucets
"I love the freedom to be creative and the ability to see the product from a raw sketch on paper to a functional piece of art."
– Moskovic, Franz Viegener