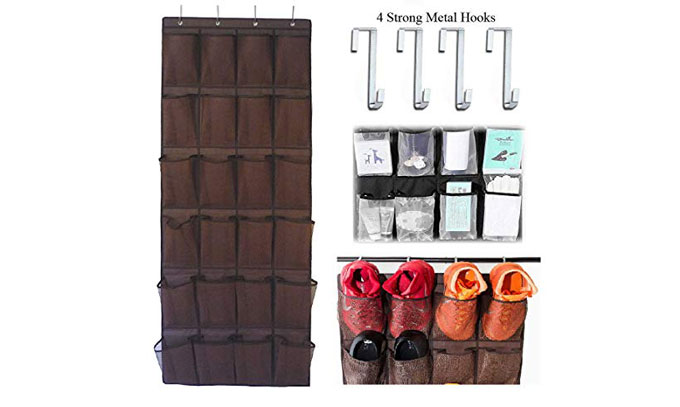 Make large numbers of small items easy to store and find
Living in a small mobile home taught me: when you run out of space, think vertical. These over-the-door multi-pockets are generally called "shoe organizers"; but though I have seven of them around the house, they've never held shoes. They make large numbers of small items easy to store, find, and grab when you need them.
Whatever you don't want disappearing in the back of a drawer, closet or cupboard, put it in one of these; they're cheap, fairly sturdy, and very versatile. In the bathroom: extra toiletries, meds, cleaning supplies, rolled (small) towels, and cleaning cloths; in the garage: aerosol cans, ball of twine, oil cans, pet leashes and collars, small wire spools, lengths of chain, bungees, and spare parts; one in my bedroom holds travel supplies (inflatable mattress, camera stuff, GPS clip, travel backpack, electronics cables, compact umbrella, rain poncho, sleep-sack, Bluetooth speaker); in the shed: small tools, chain-saw oil, instruction booklets for tools, sharpeners…you get the idea.
You can even make a can pantry behind a kitchen door with one of these. They're also easily modified: in the craft room, I seam-ripped the bottoms out of the row of pockets above the last one, making those into retaining loops that hold many rolls of wrapping paper, with the bottom of the rolls held by the bottom pocket; the upper pockets hold bows and ribbons. Any long, skinny, annoying-to-store items (like dowels or lengths of tubing) could be organized in this way.
If you have lots of small, light items, the clear plastic versions make everything easy to see, but they won't stand up to much abuse; after 5 years, the ones in my garage will need replacement soon. The mesh versions are more sturdy. Be sure to check your door dimensions before ordering; they come in different widths. They generally come with door hooks, which are often too wide for my doors; I cut small pieces of thin cardboard (the sort you find on the back of a notepad) and tape them together to make a shim, so the hook won't tilt and keep the door from closing. If you're running out of storage space, put your doors to work with a few of these!
— Barbara Dace
12/3/20