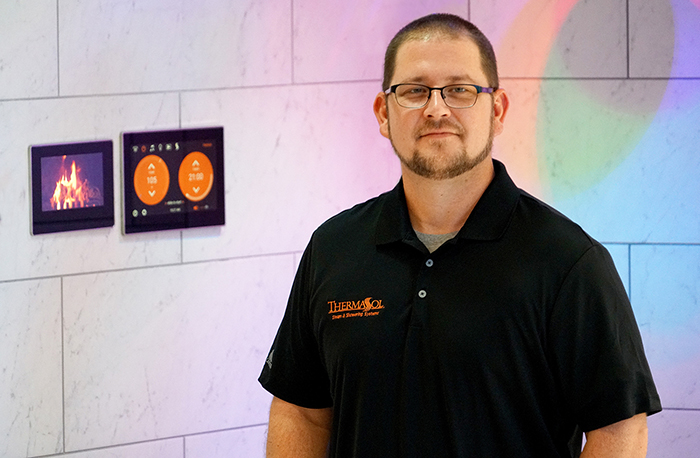 December 14, 2020
ThermaSol is pleased to announce the addition of Steve Babb to the team, effective immediately. Babb comes to ThermaSol with many years of experience in sales, marketing, customer experience and service. ThermaSol created a position specifically in alignment with his skills: sales developer and brand ambassador. In this role, Babb manage and generate sales leads, working with ThermaSol's established distribution channel on projects and proposals and ensuring that the relationships and processes already in place are maintained.
"ThermaSol isn't just on the leading edge of innovation in the steam bath and smart shower spaces, they are literally setting the standard for the industry by being tech-first and obsessing over the customer experience," said Babb. "One thing I immediately learned was how efficient their entire process is from fabrication to distribution and it is all done with a customer first mindset. I couldn't be more excited to join the ThermaSol team and help usher in the next phase of innovations we can expect to see in the months and years to come."
Babb will also conduct training and consultations utilizing ThermaSol's innovative virtual Sol University training center. While these training and consultation sessions were created to help this year due to COVID-19 restrictions, they have become an integral tool for ThermaSol.
Along with his extensive experience in sales, Babb brings with him a deep knowledge of production skills in all areas of social media. He will be producing content for ThermaSol's YouTube channel as well as internal sales and customer support videos.
"Education continues to be the foundation in getting our customers to a level of comfort so they can integrate steam and smart showering into their bathroom projects," said Patrick Weidl, director, business development, ThermaSol. "I am excited for Steve to take the reins and provide a level of knowledge that you can't find anywhere else but Sol University at ThermaSol."