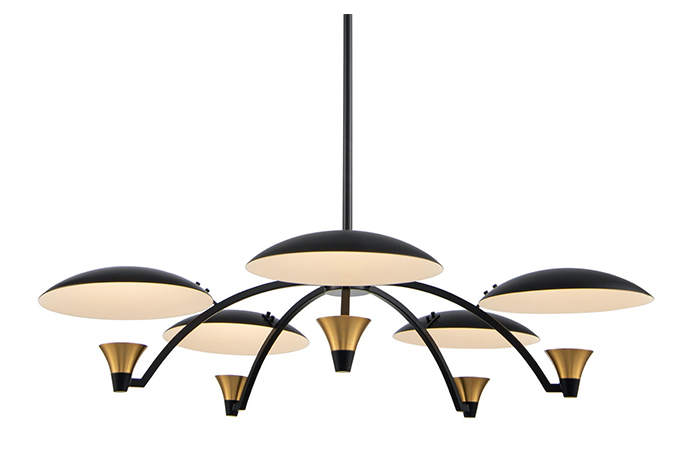 February 22, 2021
Kalco Lighting has been presented with this year's 30 Most Innovative Kitchen & Bath Products award, given by Beautiful Kitchens & Baths by Better Homes & Gardens. Kalco was awarded for the Redding collection, which features floating discs illuminated by hidden LED lights.
"Redding's design started by me wondering how I could use LEDs usual light emission characteristics more decoratively without adding any visible diffusers," said Takayuki Ishii, product design & development director at Kalco Lighting. "I wanted the LED light source to be as discreet as possible. The challenge was attaching the shallow reflector disc in a more mysterious way without adding a metal support structure. I also wanted the fixture to be nostalgic rather than futuristic, and the matte black and brass accents helped to achieve that look."
Redding's intriguing silhouette is lit without a visible light source as the brass cups holding the LEDs deliver a soft indirect light. The white interior of each shade adds brightness, and the fixtures are dimmable with a triac dimmer switch. The 2020 collection was introduced as a linear two-light and five-light fixture and expanded this year to include an additional chandelier, semi-flush and wall sconce.
"The 'invisible' bulbs make this one of the most interesting light fixtures we've seen, and proves just how adaptable LED technology is," said Samantha Hart, editor of Beautiful Kitchens & Baths by Better Homes & Gardens. 
Kalco Lighting's Redding will be featured, along with the full list of winners, in the Beautiful Kitchens & Baths Spring 2021 issue.